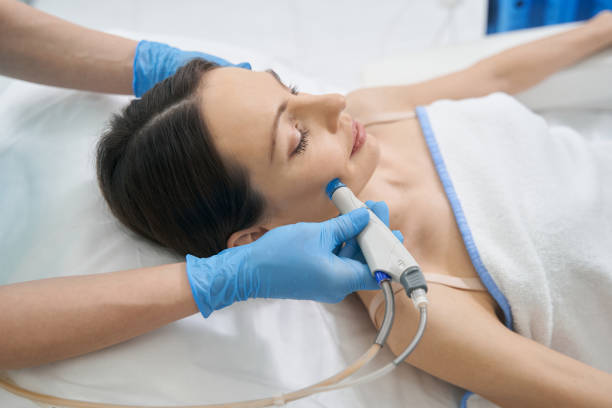 Whether you're looking for a quick skin boost before a special event or want to take care of your complexion for the long haul, a hydrafacial might be the solution.
A hydrafacial cleanses and exfoliates the skin while infusing it with nourishing serums to address concerns like acne or hyperpigmentation. Generally, hydrafacials are safe for all skin types.
Reduces Fine Lines and Wrinkles
A hydrafacial is a great way to reduce the appearance of fine lines and wrinkles. It works by exfoliating the skin and delivering hydrating serums.
It also helps to increase the production of collagen and elastin fibers, which makes skin look softer and younger.
Another benefit of hydrafacial done by professionals at Laguna Med Spa is that it is suitable for all skin types, including those with sensitive skin or allergies. However, some people may experience breakouts after the treatment.
It is due to the deep cleansing and exfoliation that a hydrafacial does. It dissolves excess sebum and dead skin cells to remove clogged pores and seal them off. It also increases cell turnover to help reduce the appearance of hyperpigmentation.
Reduces Acne and Pimples
Hydrafacials are excellent for treating acne and pimples because they can get under your skin. Also, this procedure will aid in removing debris, dead skin cells, and oil from the pores, preventing them from clogging in the future.
The first step of a hydrafacial uses a blend of salicylic and glycolic acids to help dislodge stubborn dirt, sebum, and debris that can clog pores. This peel also helps regulate oil levels and reduce the appearance of blemishes while evening skin tone.
Next, the treatment uses a unique nozzle tip that suctions out blackheads and impurities without causing inflammation or trauma to your skin. This step prepares your skin for the final step in the treatment, which involves a hydrating infusion of peptides or serums to replenish your complexion.
Reduces Dark Spots and Hyperpigmentation
The hydrafacial is a gentle treatment that reduces the appearance of dark spots and hyperpigmentation. It combines cleansing, exfoliation, extraction, and hydration to help fade discolorations over time.
Hyperpigmentation is a condition that can occur for several reasons, including aging, genetics, and hormone changes. In addition, medical conditions or medications can also cause it.
One effective way to reduce hyperpigmentation is using a dermatology medication like prescription-strength hydroquinone. It is the most effective option for reducing dark spots and is also very safe.
A stand-alone chemical peel is another way to combat hyperpigmentation, but it's essential to consult your doctor or aesthetician before getting a chemical peel. They may recommend a mild or strong peel depending on your skin type and the severity of the hyperpigmentation.
Reduces Oily Skin
If you have oily skin, a hydrafacial will help reduce sebum production, which helps control breakouts. Moreover, it will also reduce the number of clogged pores.
Those with dry skin can also benefit from hydra facials, as the treatment can improve the tone and texture of their complexion. It can also reduce the appearance of fine lines and wrinkles.
A hydrafacial cleanses and exfoliates the skin, extracts debris and dirt from your pores, and then hydrates your face. It can also be paired with a lymphatic massage to assist the body's natural detoxification process.
Reduces Pore Size
Pores can get clogged with oils, dirt, and dead skin cells. When that happens, they can enlarge and leave you with blackheads or other blemishes that are difficult to remove.
Thankfully, a hydrafacial treatment helps reduce your pores' size by extracting the debris inside them. It also helps to clear up your complexion and improve the appearance of your skin.
Unlike other extractions, which often result in redness or next-day breakouts, the hydrafacial uses a vacuum-like vortex that doesn't apply pressure to the skin. Instead, it extracts the impurities without causing pain or discomfort.